We create. We innovate. We collaborate. We make. We're an independent, wall covering, textile design and art studio working with established brands to develop new designs using natural materials and age old artisan processes. We work with handmade paper, metal sheets, real and faux leather, canvas, metal leaf, handspun yarns, silk cocoons, fabrics, felt, paint, and natural pigments.
Our proprietary relationships with artisan workshops in the Philippines, Nepal, Indonesia, Bangladesh and Morocco ensure that your designs will be made exclusively for your company.
We work with our artisans and design team to bring you market-ready handmade surfacing materials, of the highest quality.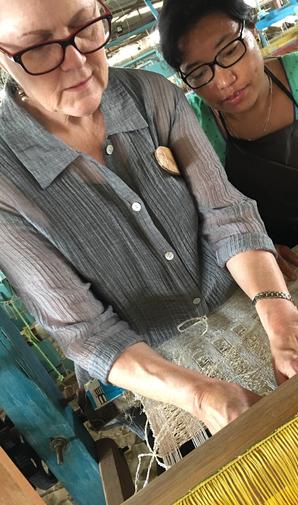 DOCEY LEWIS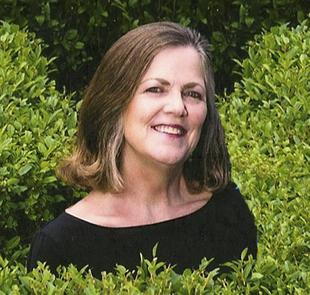 Docey has worked for forty years in over forty countries as a designer and sourcing consultant for commercial companies, governments and international development organizations. She began her career in San Francisco as a weaver and yarn designer, developing fabrics for fashion and interiors. In the 80s Docey founded IMA Designs, a weaving factory and commercial design studio in the Philippines with a focus on natural fiber wall coverings. Since 1981 Docey has worked with major high-end wall covering brands to both design and oversee sourcing with proprietary artisan workshops around the globe.
Now based in New Harmony, Indiana, Docey and her son Owen operate a studio, DESIGN BANK 505, and are advisors to a weaving and papermaking factory in Kathmandu, Nepal. Docey has been a senior textile consultant to Aid to Artisans (ATA) since 1988, most recently working on organic cotton in Senegal and loom weaving in Mexico and has served on ATA's board as well as on the boards of the Full Circle Foundation, Vital Edge Aid, the HandEye Fund (HEF), and the Robert Lee Blaffer Foundation (RLBF). She chairs the RLBF Grants Committee and its Creative-in-Residence program. Docey established ATA's Artisan Health & Safety initiative funded by the eBay Foundation, and is also a founder of Handmade Water (Guthi Nepal), a project to clean up dye effluent created by village dyers. She was involved with community development in the Solukhumbu region of Nepal in projects that included organic agriculture, artisanal cheese, a papermaking, weaving, monastery restoration, an education program and a Himalayan bed and breakfast. Her work with conservation organization CPALI from 2016 – 2021 resulted in a collaboration with artisans in Madagascar to produce unique wild silk cocoon artwork featured at Donna Karan's Urban Zen.
OWEN LEWIS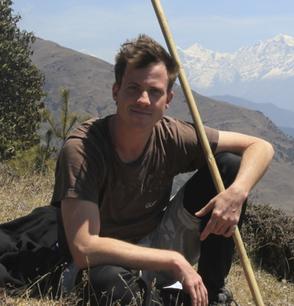 Owen joined the family business in 2003 after stints in hospitality and theater. Responsible for setting up production and quality control in our partner workshops, Owen also coaches artisan entrepreneurs at Aid to Artisans Market Readiness program annually at NY NOW. He has lived in the Philippines, Nepal and Bangladesh where he earned his title as "trouble-shooter." He has the patience and language skills to train artisans and dive deeply into our community development projects. He leads Himalayan treks twice a year and strives for continual improvement in places that require a lot of creativity and fortitude.

PHILOSOPHY

"I have a deep respect for my family roots, going back to my 4th great grandfather Robert Owen. His former cotton mill in New Lanark, Scotland is now a World Heritage Site that preserves the philosophy of cooperation, humane labor practices, adult education, and continuous improvement."
NEW HARMONY STUDIO
On the corner of Main and Route 66 above Sara's Harmony Way in what was once the Wilson Furniture showroom, Docey and Owen maintain a studio that includes weaving, dyeing, printing, stenciling, painting, design, archives, and a small showroom. Clients visit from all over the world to co-create natural fiber textiles for various applications.